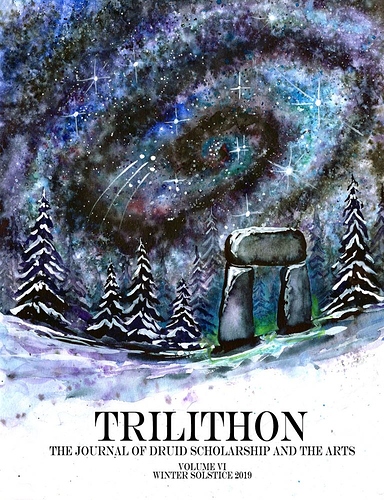 Hello and happy Winter Solstice everyone! We are delighted to announce that the 6th volume of our yearly journal,
Trilithion
has been released. For a free digital download or to purchase a printed copy, please click here:
http://aoda.org/publications/trilithon-the-journal-of-the-aoda/trilithon-ordering-information/
Thank you to everyone who has worked so hard on this issue: Moine, Rob, and Karen on our editorial team and all of our contributors.
Here is more about the issue:
In the sixth volume of Trilithon: The Journal of Scholarship and the Arts of the Ancient Order of Druids in America, authors mediate upon cities as sites of magic and spirit. Contributors include Erin Rose Connor ("Urban Druidry: The Cauldron of the City"), Grand Archdruid Emeritus Gordon Cooper's ("A Just City") and Moine Michelle ("The City and the Druid"). The issue also includes works by the AODA's current Grand Arch Druid, Dana O'Driscoll ("Druidry for the Twenty-First Century: Practicing Nature Spirituality in the Age of the Anthropocene" and "Channeling the Awen Within: An Exploratory Study of the Bardic Arts in the Modern Druid Tradition," OBOD's 2018 Mount Haemus Award essay). Other contributors in this issue: Claire Schosser, Archdruid of Fire and Mentor Coordinator ("Gaia and the Cauldron"), Kathryn Opon, Grand Almoner, ("Interconnected and Interdependent"), Nancy Forest ("Carl Jung and Druidry"), Lisa Jacobs ("Reviews of Three Recently Released Books"), and Moine Michelle ("Imbolc Corn Dollies"). The issue closes with the poetry of William Herrington ("Last Butterfly") and Jason Stieber ("Endlings"); and a cross-communities interview with Byron Ballard, the "Village Witch" of Asheville, North Carolina.
Thank you to all of our 2019 contributors!