Hello everyone! As we approach the Summer Solstice this will be the first time we will be doing our order-wide rituals for land healing and blessing (see this link for rituals and information: Order-wide Rituals for the Earth – Ancient Order of Druids in America). To help facilitate this, we have created a map that you can use to place where you have done the ritual.
To add yourself to the map, first go to the map and make sure you are logged into Google. From there, click "Edit map". Then, click on the layer "Summer Solstice 2022" and then go to the small toolbar and click the "marker button" and then add yourself or your group and any other information you want to add. See the graphic below for more information on how to add to the map.
Here is the URL where you can add yourself to the map! AODA Order-Wide Rituals - Google My Maps
AODA Order-Wide Rituals - Google My Maps
Here's the graphic with more info on how to add yourself :).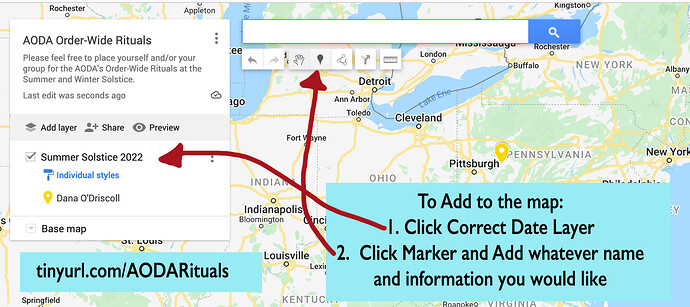 We will also be having a Zoom community call on June 29th to talk about the ritual and how it went!